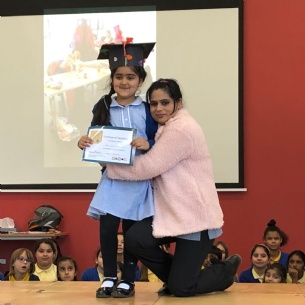 Our Connect Club families graduate!
On Thursday 28th March 2019 Wexham Court Primary School held the graduation ceremony for their Family Club. The club was set up as a way of bringing families together to learn new skills and strengthen community links.
Each week the families involved took part in lots of activities. These started with making a flag to represent each family. The families also made slime, took part in arts and crafts and sewing. There was a raffle each week in order to win lots of prizes such as colouring pencils, books and puzzles. Whichever family won the raffle that week was responsible for cooking a meal for the other families the following week.
On the graduation day, the families were presented with a scrap book full of photos of their time at the club, their family flag, prizes and a certificate. This was the first Family Club run by Wexham Court and due to its success, it will be back next year! Some of the families had these things to say:
"I am so sad it is over, it has been a great experience, learning new skills and spending time with the other families. I am really going to miss coming in every week"
"I would highly recommend it to other parents, I have already told some of them on the playground! I wouldn't change anything about it."
In addition, our choir have been working so hard and they performed at the graduation and were absolutely wonderful! Thank you to everyone involved.