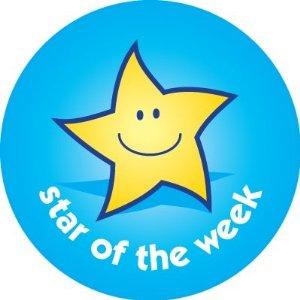 The children below have been selected by their class teacher to be the star of the week. Well done and keep up the good work!
| Class | Name & Reason |
| --- | --- |
| Nursery AM | Hargun for trying her best to write her name independently and for being a good friend |
| Nursery PM | Leena for making great progress and sharing her ideas during group time |
| England | Arthur for growing in confidence and making good progress in Literacy |
| Scotland | Zayaan for having a positive attitude towards his learning and applying his phonics knowledge to write sentences independently. |
| Wales | Esa for building confidence and making excellent progress in Maths |
| Spain | Ilana for building friendships within her class and helping others to feel included |
| Italy | Adam for having a mature attitude towards his learning, for applying his number knowledge in lessons well. |
| Poland | / |
| Fiji | Amaal for consistently demonstrating excellence and respect |
| Tonga | Amaree for his improvement in his attitude to learning! |
| Australia | Sophia for her growing confidence and independence in writing! |
| South Africa | Ralphie for ALWAYS striving for excellence and showing lots of enthusiasm in his work. |
| Ethiopia | Wadiha for going above and beyond in our English lessons. She has been a wonderful role model in Ethiopia class. |
| Egypt | Iyaaz for working so hard to apply his knowledge of division and multiplication to bar models and having a positive attitude towards his learning. |
| Canada | Zain for his improved behaviour and attitude towards his learning in all lessons and for his participation during class discussions. |
| Cuba | Maya for her improved attitude towards her learning and great progress with her timetables. |
| Mexico | Zoya for her increased participation in class discussions |
| Argentina | Yuvraj for catching up on his work efficiently and always trying his best! |
| Peru | Husnain for his enthusiastic contributions and dedication to improving his reading skills during Guided Reading lessons this week. |
| Brazil | Max for a great diary entry which used all the features of our toolkit. |
| Sri Lanka | Gurnoor for not only striving for excellence herself but for supporting others to do so also. |
| China | Vaneeza for always demonstrating a positive attitude in all that she does |
| Philippines | Mahila for using critical thinking skills during her RE and PSHE lessons to better express her beliefs and ideas. Keep thinking outside the box! |
No news stories have been added to this category yet.