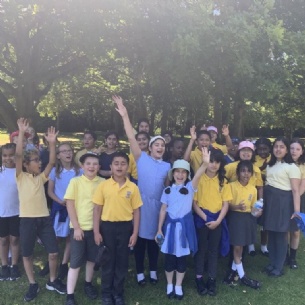 A Great day at the Polish Club
On Wednesday 22nd June 28 musicians from Wexham attended everyone can play, an event organised by Slough Music Service. We had learnt 2 songs ready for the day, love Slough an original song composed by the Slough Music Service teachers and Sing composed by Gary Barlow for the Queens jubilee.
We began the day with demonstrations of African singing and djembe playing, singing and a stunning performance of the Ashkenazi farewell by professional violinist (and our violin teacher) Louise Bevan.
We then took part in rehearsals with musicians with other schools which was a great experience of playing in a large ensemble. We enjoyed the beautiful grounds of the Polish club at lunchtime.
In the afternoon we listened to performances by the professional musicians in the band and finished with a final performance to parents with the band of the Slough Song and Sing.