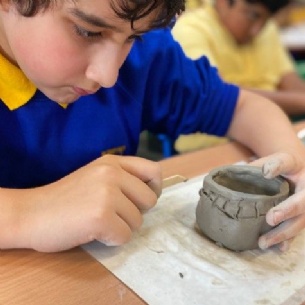 Wexham Court Primary School Art Week
Art week at Wexham Court, is a time for pupils and staff to fully immerse themselves in hands-on creative activities. We realise as a school, that the arts are subjects that often get neglected, however they are vital subjects for children to be able to express themselves. With this in mind, we have decided to run art week for a full week, once a term. Throughout the week, year groups spend the afternoon sessions focused purely on Art and DT based sessions building up to a final piece by the end of the week.
For our staff to be able to deliver these sessions with confidence and in depth, we provide all year groups with a detailed medium-term plan which covers the coherence and rigour needed in each of their units. This also included a break-down of vital teacher notes, and a list of relevant resources for them to bear in mind when planning their sessions. As well as this, we run CPD sessions in the weeks prior to Art week, led by an Art consultant, so teachers have the opportunity to ask questions, and experience trialling the art tasks themselves before doing these with the children.
Their units relate closely to their enquiry units which are being taught during the half-term, so the pupils can understand in further depth and connect the links.
The art units for Term 1 (Autumn) are outlined as:
Year 1 – To produce a collage and drawing of a train carriage. These children will focus on shapes, lines and learning to draw faces.
Year 2 – To construct a town from the 1600s. These children will focus on construction, how materials stick together, shapes and building structures.
Year 3 – To produce a roman mosaic. These children will focus on patterns and colours with a basic design.
Year 4 – To produce a piece of Viking jewellery. These children will focus on clay work with the technique of carving.
Year 5 – To produce a stained-glass window based on a geometric design. These children will focus on researching Islamic art in architecture, colour theory and tessellation.
Year 6 – To produce a piece of Greek pottery from air dry clay. These children will focus on researching Greek pottery, the pinch pot technique and inscribing stories/images into clay.
We have found that by planning art week in this way, our staff and pupils have a deeper understanding around the processes and concepts involved in creating high-quality outcomes. We have been blown away by the pieces that our children have created in the Autumn term. Our pupils can speak confidently and clearly about the steps involved and the 'why' behind their work.